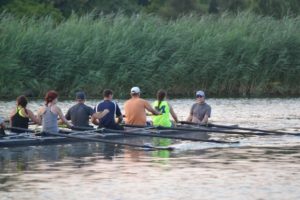 BCRC is searching for more coxswains this summer and we need your help! In order to keep a balance boat duties, we need individuals who are willing to train as coxswains. This could include new coxing-only members, or members who are willing to double-dip by rowings some and coxing some.
If you are interested, please let us know through the Contact form or by connecting with a BCRC member. If you know someone who might be interested, please reach out to them. If you need more information, read on!
What is a coxswain?
The coxswain (commonly pronounced "cox" or "cox'n") is the individual that is in charge of commanding rowers and moving the boat, both on land and on the water. Not all rowing shells have a coxswain. Sculling shells (singles, doubles and quads) typically do not have a coxswain. However, sweep shells (fours and eights) are coxed, so these boats have an extra seat for the coxswain, who does not row.
Responsibilities of the coxswain
The cox position is often less intimidating then it is made out to be – anyone can be taught how to cox a rowing shell! Here are a few key points so that you know what to expect:
Welcome aboard, Captain!
Teamwork is the critical element of rowing. It doesn't matter who is in the boat or who is coxing – you are all part of the team, and everyone has a job. The entire boat must work together in harmony to be smooth and strong. The coxswain is the captain who's goal is to help coordinate and synchronize the boat.
While on land and on the water, you are the position of authority in the boat.
From the time rowers first lay hands on the boat in storage, to the time the boat returns to storage, you're in control. This doesn't mean you have to be an angry dictator, but you must be clear and direct with commands. Even if you don't feel confident in what you're doing – giving commands with confidence is very important. We'll provide cheat cards with commands and terminology to help you learn.
You get to be creative and unique.
Being a cox doesn't mean your personality gets thrown out the window – you can also make it fun! While commands and terminology should be used consistently for rowers, each cox adds their own unique flare to the boat.
You'll have to multitask a little.
You're not in the circus, but you'll have to juggle different tasks, like watching for debris in the river, counting strokes, watching rowers and oars, and giving commands.
You get to motivate and inspire.
Rowing is not just physical – it's also very much a mental sport. When rowers get tired or bored they typically get sloppy and therefore the boat suffers as a team. One job of the cox is to keep rowers motivated and performing their best. There are common do's and don'ts for coxing, and we'll teach you those.
You will help coach, but you don't have to be an expert.
Learning to cox is like learning to row – it takes time. Knowing how to help rowers with their technique doesn't come right away. Eventually, you'll be able to notice things that you can, and should, correct with each rower to improve the performance of the boat and the synchronization as a team.
You've got what it takes
If you're considering being a cox – don't think about it – just say YES! Everyone has potential to be a cox with training and practice, and BCRC members will help you get there.