Fountain Point Masters Classic
The Last Regatta of the Season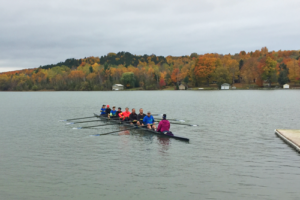 The last regatta of our season is one of our favorites. Hosted by the Leelanau Rowing Club is Leelanau, Michigan, this race always takes place the last weekend in October. Club participants usually go up for the weekend, to race, hang out and enjoy the local attractions of the Traverse City area!
Rowing Season Coming to a Close
With leaves and temperatures dropping, the end of rowing season is sadly drawing closer. For new rowers, we encourage you to read through our website and educate yourself about our programs. The best time for you to get on the water to try rowing is in the spring when our programs are starting – this ensures you get a full spring, summer and fall worth of rowing!
By Amber Selke Head Coach, Great Lakes Bay Crew As the ice thawed last Spring, the Bay City Rowing...
Didn't come up with any good resolutions for 2018? Neither did we…except that we're going to keep rowing because...
We're long overdue to congratulate our Ann Arbor racers for a great regatta! More than racing, regattas are great...